At the office of Dr. Suzanne Stock, we feel blessed to get to be a part of the thriving Iowa City community, and we look for every opportunity we can to give back. That's why we were excited to get to sponsor the Family Stage at the Iowa Arts Festival this year. We had an excellent time, and it was a wonderful opportunity for us to give something back to the community and see some of our own patients having a blast!
Iowa Arts Festival
The Iowa Arts Festival is a weekend-long event that occupies a full 7 blocks of downtown including the Pedestrian Mall, Washington Street, Dubuque Street, Linn Street and Iowa Avenue. It's part of Iowa City's Summer of the Arts program and is fun-filled weekend of art, music, performances, and plenty of fun activities, and this year Dr. Stock sponsored the Family Stage. We had a blast seeing some truly incredible performers, and some of our favorites were the Champagne Academy of Irish Dance from Iowa City and The University of Iowa Repertory Dance company. We had a lot of fun, and we're happy to say that we even saw some of our patients enjoying the festivities!
Our Latest Contest
But the summer fun certainly isn't over, and we're currently holding a photography contest to highlight our talented patients and give them something new to smile about. Any patient can submit, and there's still plenty of time to submit for our Nature and City category. You can submit up to 5 photos in both of the categories, and our favorite photo in each one will receive a $100 Amazon gift card as a prize! To submit, just post your photos on our Facebook page or email your photos to info@drssortho.com and we'll post them for you. The deadlines are July 31st for the Nature category and August 31st for the City category, so be sure to take some pictures and turn them in!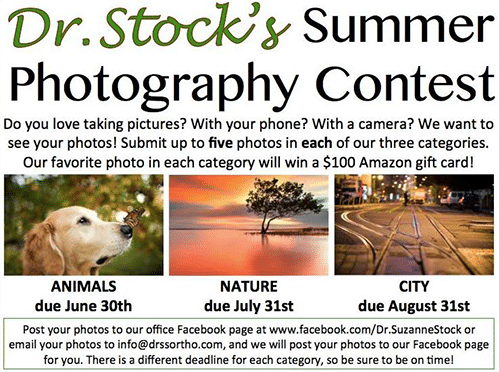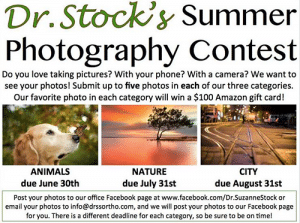 Contact Your Southeast Iowa Orthodontist
After you've taken some photos and submitted them to the contest, we'll be here to help you make sure your smile is as beautiful and healthy as possible. As always, you can call us at 319.338.8658 with any questions, schedule an appointment online at one of our offices, or reach out to us at our contact page. We hope to hear from you soon, and we'll see you back at this blog for more info on Iowa, our practice, and orthodontics!