Adolescent Orthodontic Treatment in Iowa City
---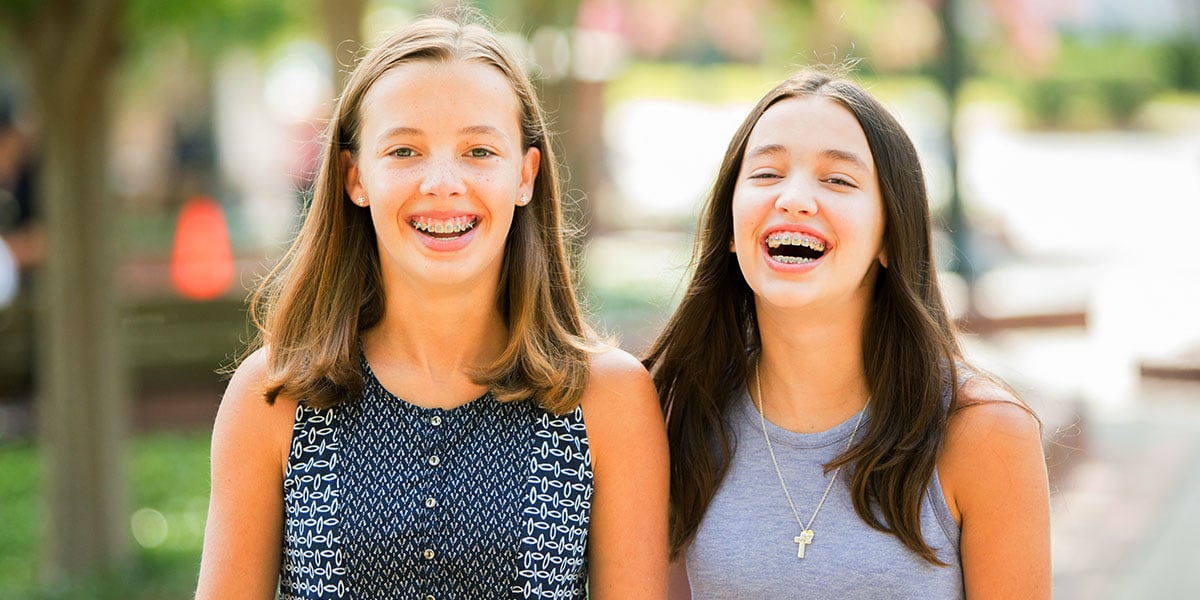 ---
Dr. Suzanne Stock provides adolescent orthodontic treatment in Iowa City, Fairfield, Washington, and Williamsburg, IA. Contact us to learn more or schedule an appointment.
Orthodontics isn't just about creating a beautiful smile. Straighter teeth are healthier teeth—they're easier to clean, which means a lower risk of tooth decay, and a proper bite protects teeth from damage. Even if your child's teeth appear to be straight, they may have bite issues that can cause complications when they reach adulthood. Orthodontic treatment is one of the ways you can lay the foundation for a lifetime of healthy smiles for your child.
We recommend that children begin orthodontic treatment between the ages of 9–14 because during this time children are growing rapidly, allowing us to shape their bite and teeth more efficiently than we might be able to when they are older.
When you bring your child to our office, Dr. Stock will assess their bite and the alignment of their teeth; if needed, x-rays and photographs will be taken to assist in treatment planning. Dr. Stock will discuss her diagnosis with you and your child and go over your child's treatment options. Selecting a treatment is a matter of weighing your child's orthodontic needs, preferences, and lifestyle considerations.
---
Adolescent Orthodontic Treatment Options
---
We offer traditional metal braces, clear braces, and Invisalign clear aligners. Once orthodontic treatment is complete, Dr. Stock will provide your child with a retainer, which will help them maintain their results for decades to come.
---
Frequently Asked Questions About Adolescent Orthodontic Treatment
---
What is the best orthodontic treatment?
---
Dr. Stock creates customized treatment plans based on every patient's unique needs, which means there's no one-size-fits-all best orthodontic treatment option. The best orthodontic treatment is whatever fits into your budget and helps your child achieve a beautiful, healthy smile!
---
Is orthodontic treatment painful?
---
Patients have different thresholds for pain.  Orthodontic treatment is uncomfortable at times, but rarely (if ever) painful. When your child first gets their braces, they will likely have some discomfort; this is also common when they come in to have their braces adjusted. This just means that their braces are doing the job of moving their teeth.
---
How long is orthodontic treatment?
---
On average, orthodontic treatment takes between 1–3 years, but it can take longer, particularly if your child doesn't attend their appointments as directed or breaks off brackets routinely without getting them replaced in a timely manner. During your consultation, Dr. Stock will estimate your child's treatment time.
---
Do braces change facial appearance?
---
Braces will result in a more symmetrical facial appearance and balanced profile. In other words, they do change facial appearance, but for the better.
---
Is it okay for my child not to get braces?
---
We respect that every family must decide on their own whether to pursue orthodontic treatment. The risk in not getting orthodontic treatment when it is needed is that it can lead to serious dental problems in the future that are much more costly and time-consuming to fix.
Are you looking for an orthodontist in Iowa City, Fairfield, Washington, or Williamsburg, IA? Call 319-338-8658 to schedule an appointment at one of our four locations in Eastern Iowa.
---