Frequently Asked Questions (FAQs)
---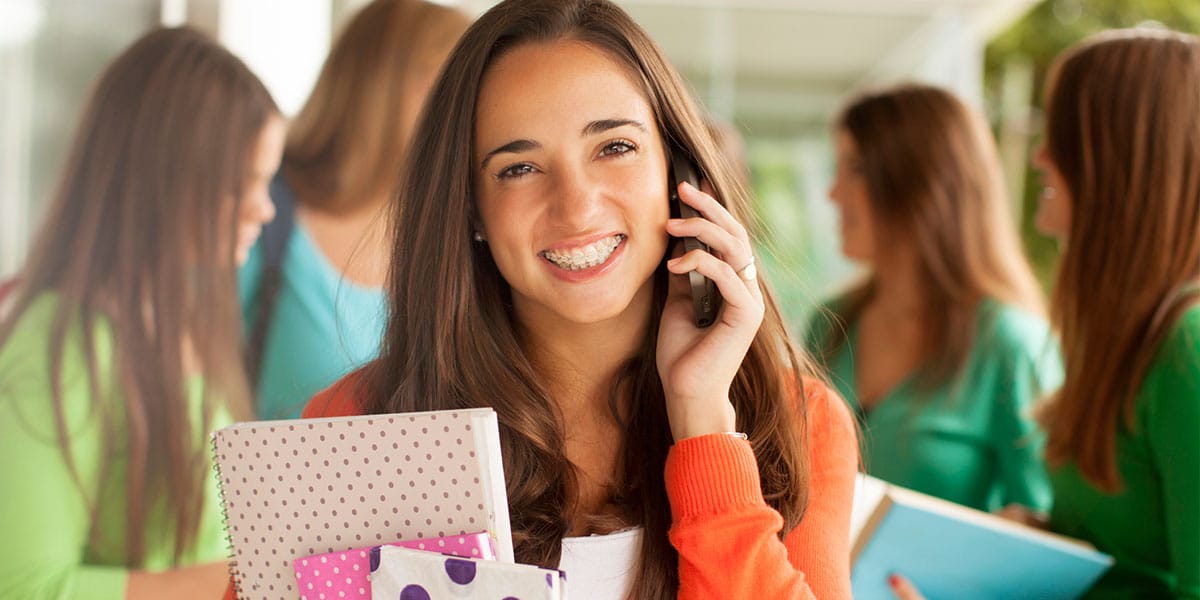 ---
At the office of Dr. Suzanne Stock, we believe everyone deserves a healthy, beautiful smile they can call their own. Dr. Stock and our highly trained team of orthodontic specialists work hard to treat every patient on an individual level, designing personalized treatment plans that perfectly suit each patient's unique needs. We believe patient education is a critical part of successful treatment, so we've compiled a list of some of the most common questions we get from patients along with their answers.
---
---
Does my family dentist have to schedule my appointment?

Not at all! While we get many patients as referrals from dentists, you are more than welcome to schedule a consultation independent of your dentist – in fact, we encourage it! In some circumstances, we will ask that your dentist send us a written referral letter, and we will let you know if your particular case requires this.

When should I or my child first come in for a visit?

The American Association of Orthodontists recommends that parents bring their children in by age 7. While we likely won't begin treatment yet, evaluating this early lets us spot any problems before they develop in severity.

Do I really need treatment? Won't my teeth straighten out eventually?

Quite the opposite! Orthodontic problems tend to get worse over time, not better. The only way to ensure a healthy, beautiful, lifelong smile is to pursue orthodontic treatment.

How can I schedule my first appointment?

Scheduling is easy! Just call our office at (319) 338-8658 or use our easy online form. During this phone call, we may ask for some basic information to help get you into our system and expedite your appointment.

What happens during the consultation?

Dr. Stock will complete a thorough orthodontic examination and discuss any orthodontic problems you may have along with potential treatment options. You can learn more about what to expect on our First Visit page.

What can I expect to learn from my consultation?

During your first appointment, we'll go over a number of basic questions:

Do you have an orthodontic condition? What is it?

How can we correct the problem?

Do we need to extract any teeth?

How long will treatment take?

What is the estimated cost of treatment?

Will you need to pull any of my teeth?

In some cases, teeth need to be extracted to provide the best smile possible. If this applies to your situation, Dr. Stock will explain which teeth should be extracted as well as the specific reason for this recommendation.

How long does treatment usually take?

Treatment time varies widely from patient to patient, and ultimately will be determined by the extent of your orthodontic problems. You can expect for treatment to usually range between 12 and 30 months, with 24 months being the "average."

What is the cost of treatment?

What are my financial options? Ultimately, we can't know the exact cost of treatment until after your examination. Once we have a good understanding of treatment cost, we'll discuss the financing options we offer as well as how to help you maximize your insurance benefits – we'll also take care of filing your claims for you.

How frequently do I need to come in for a visit?

Appointment frequency varies based on the patient's individual situation, but we'll see most patients once every four weeks.

Can all of my appointments be outside of school hours?


After school hours are highly sought after, so unfortunately, we can't guarantee that all appointments will be outside school hours. That said, we'll work with you to make treatment as convenient as possible, and because appointments are so far apart, most patients miss little school due to treatment.

Can I drop my child off for their appointment?


Of course! We know how busy life can be, so we're happy to make treatment as convenient as possible. If Dr. Stock needs to speak to a parent about how treatment is progressing, we will contact you by phone or email, so please keep your contact information up-to-date.

Are braces painful?


The short answer is no, braces aren't painful. It's normal to experience soreness, pressure, or discomfort after certain visits, but these feelings will disappear quickly and are treatable with over the counter painkillers like Advil or Tylenol.

Can I go to school right after getting my braces?


Definitely! Most patients have no problem going back to school after having their braces placed.

Will I need shots?


No, shots are not used in orthodontic treatment.

Do you ever recycle braces?


Never! Every patient gets a brand new set of braces to help them achieve the best smile possible.

Can I still play sports with braces?


Absolutely, but we do ask that you wear a mouthguard when playing or practicing. Ask Dr. Stock or a team member for a recommendation on what kind of mouthguard would work best for your situation.

Will I still need to visit my dentist during treatment?


Definitely. Oral hygiene is more important than ever during orthodontic treatment, and it's critical to maintain your regular schedule of dental cleanings and appointments.

Will I have to change my diet?


You will need to adapt to some dietary changes during treatment – in general, you'll need to avoid any foods that are sticky, hard, or full of sugar. These types of foods can damage or break your braces, which can derail treatment and necessitate costly repairs.

Do I need to change my oral hygiene habits?


While wearing braces, you'll need to brush three times a day: once after breakfast, once after lunch, and once before bed. You will also need to floss daily, and we will show you how to use floss threaders when your braces are initially placed.

What happens if I have an orthodontic emergency?


True orthodontic emergencies are rare, but if your braces are extremely painful or if they break, you should call us immediately. We can often resolve issues over the phone, but if we decide an emergency appointment is necessary, we'll set one for as soon as possible.

Can my child get braces while they still have baby teeth?


Sure! Some malocclusions are best treated with early intervention. In any case, we'll monitor your child's development to plan the idea time to start treatment.

What is Phase One treatment?


Phase one treatment, or early orthodontic treatment, starts between the ages of 7 and 10. It's generally used to correct serious issues that would develop in severity over time. Starting early can help us guide the development of the teeth and jaws, preventing major problems before they develop and setting the stage for a healthy smile.

Do people who receive Phase One treatment still need braces later on?


Usually, yes they do. After Phase One treatment, patients go through a "resting phase" where we closely monitor jaw growth and tooth development, waiting for the ideal time to start Phase Two treatment. Treating in two phases lets us provide the best smile possible, and it ends up shortening overall treatment times in the long run.

Does my child need an expander?


This varies from patient to patient, and we'll determine if expansion is necessary after the initial exam.

Can I still get braces as an adult?


Absolutely! More and more adults are discovering the benefits of orthodontic treatment. A new smile brings a boost of self-esteem, happiness, and confidence into every area of your life, and it's never too late to start treatment.

Can I get braces if I have crowns or am missing teeth?


Yes! Crowned teeth move similarly to regular teeth, and orthodontic treatment will actually help to improve your smile if you're missing teeth.

Do I really need to go to an orthodontic specialist? Can't my dentist do it?


Orthodontic treatment uses incredibly complicated tools and technologies to make lasting, permanent changes to the teeth, jaws, and entire facial structure. Mastering these techniques takes years of dedicated education beyond dental school --- so the best way to ensure successful orthodontic treatment is to see a licensed, Board Certified orthodontist.
---