Invisalign for Adults in Iowa City
---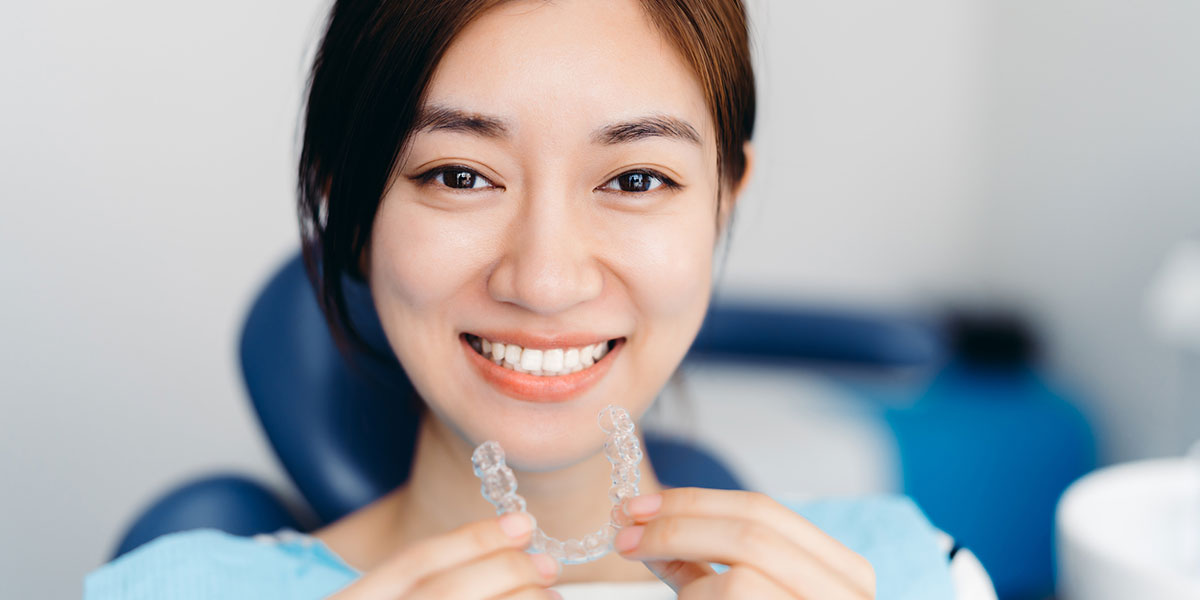 ---
Dr. Suzanne Stock provides Invisalign for adults in Iowa City, Fairfield, Washington, and Williamsburg, IA. Call to learn more and schedule your appointment.
When you choose a Board-Certified Orthodontist like Dr. Stock for your Invisalign treatment, you can be confident that you're getting the highest quality care. Orthodontists are the specialists when it comes to moving teeth to correct misalignments and problems with the bite, so there's no one more qualified to help you achieve a beautiful, healthy smile with Invisalign.
Although not all patients are candidates for Invisalign treatment, advances in the system mean that it can treat a wide range of orthodontic issues. Invisalign is especially popular with our adult patients because it eliminates the need for brackets and wires, replacing them with a series of virtually invisible plastic aligners. You'll never have to feel self-conscious about undergoing orthodontic treatment as an adult when you have Invisalign!
Your Invisalign aligners are designed by Dr. Stock and created uniquely for you using a 3D model of your smile. You'll wear them for 22 hours each day and switch to the next set of aligners every two weeks, or as directed.
---
Advantages of Invisalign
---
For all but the most complicated orthodontic cases, Invisalign is as effective as traditional metal braces. The benefits of the Invisalign system include:
Invisalign is discreet. Because your aligners are made with thin, clear plastic, your friends, coworkers, and acquaintances will have no idea you're wearing them.
Invisalign is comfortable. There are no wires or brackets with Invisalign, just thin, smooth plastic.
Invisalign is convenient. Your aligners can be removed for brushing and flossing and there are no food restrictions, so you can continue eating all of your favorite foods.
---
Frequently Asked Questions About Invisalign for Adults
---
Which is better, braces or Invisalign?
---
Braces and Invisalign are both effective when it comes to straightening teeth and correcting bite issues, assuming you are a candidate, so the answer to this question comes down to your lifestyle and preferences.
---
Can you eat with Invisalign in?
---
The advantage of Invisalign is that you can take your aligners out for eating! There's no need to leave them in—it could damage your aligners and leave your teeth vulnerable to decay.
---
Is Invisalign a permanent fix?
---
Yes, your results from Invisalign will be permanent as long as you wear your retainers as directed once your treatment is complete.
---
Can I leave my Invisalign out for a day?
---
You can remove Invisalign for a day, but it's important to remember that your aligners only work when you wear them. The more you take them out and leave them out, the longer your treatment will take.
---
How long does Invisalign treatment take?
---
The answer to this question depends on how well you comply with the instructions given and the amount of orthodontic correction needed. Invisalign reports that the average treatment is 12 to 18 months. If you're an adult getting Invisalign to correct minor orthodontic relapse (teeth that have shifted after having braces when you were younger), you may only need to wear aligners for a few months.
Call to learn more and schedule your appointment.
---